Manage Block Lists
Last Updated on: 19 Sep, 2023
Create Block List
Block lists play a crucial role in efficiently managing your brand, mitigating competition, and maintaining creative moderation. These versatile block lists can be seamlessly utilized across various apps, providing you with the flexibility to tailor your preferences. Best of all, employing block lists is optional, granting you the freedom to customize your experience as needed.
To create a blocklist, follow the instructions below:
Navigate to Set Up > Block Lists and click the

Create Block List

button in the top right.

On the Create Block List page, enter a name for your block list.
In the Apply to field, select the app(s) from the list. This step is optional for you.
You can now define the block list based on Categories, Domain & Apps, and Creative Attributes in their respective tabs and create your block list. For more information on how to add block specifications, see the Block Advertisers section. If you wish to add the block specifications later, you can create the block list (without any selection) and edit them later. To know more about how to edit your Block List, see the Edit/Remove Block List section below.
Block Advertisers
Take precise command of programmatic ad delivery with the implementation of the IAB Ad Product Taxonomy 2.0, which provides a comprehensive and structured categorization of ads.
Add Category Blocks
To safeguard your brand's reputation and ensure ad appropriateness, you can choose from a range of preset filters, such as Strict, Moderate, Low, and Custom to block any undesirable ad content. For even greater control, not only can you block inappropriate ad content, but you can also proactively prevent competing product content from appearing. Tailor your filters by selecting specific categories that you deem competitive, thereby creating a customized and robust defense against unwanted ad placements.
INFO
These blocks are currently applicable only for S2S networks that are onboarded on Meson.
Add Domain & App Blocks
Take charge of programmatic ad delivery by blocking competitor domains or app IDs. To block ads from www.competitor.com and its subdomains, simply enter the top-level domain as 'competitor.com'. For specific app titles, use app bundle IDs. On Android, enter bundle or package names (e.g., com.foo.mygame). On iOS, use numeric IDs.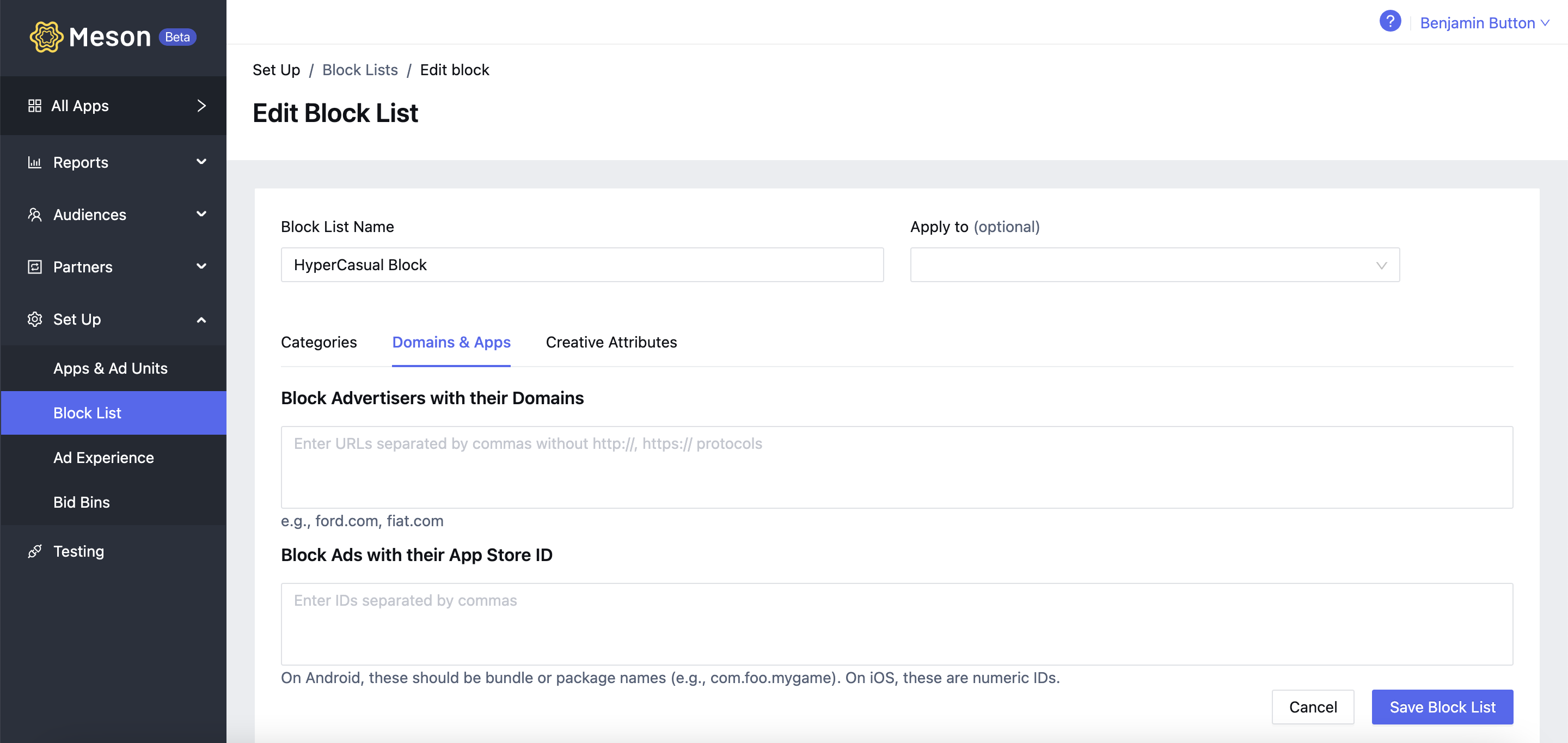 Add Creative Attribute Blocks
Seize full control of programmatic ad delivery by blocking creative attributes. Tailor your ad experience effortlessly with the ability to block attributes such as auto-play audio, auto-play video, interactive ads, and more right from here.
Apply Block List to New App
Apply a Block List to an app while creating or editing it. For more information about how to apply a Block List to a new app, see Add Your First App.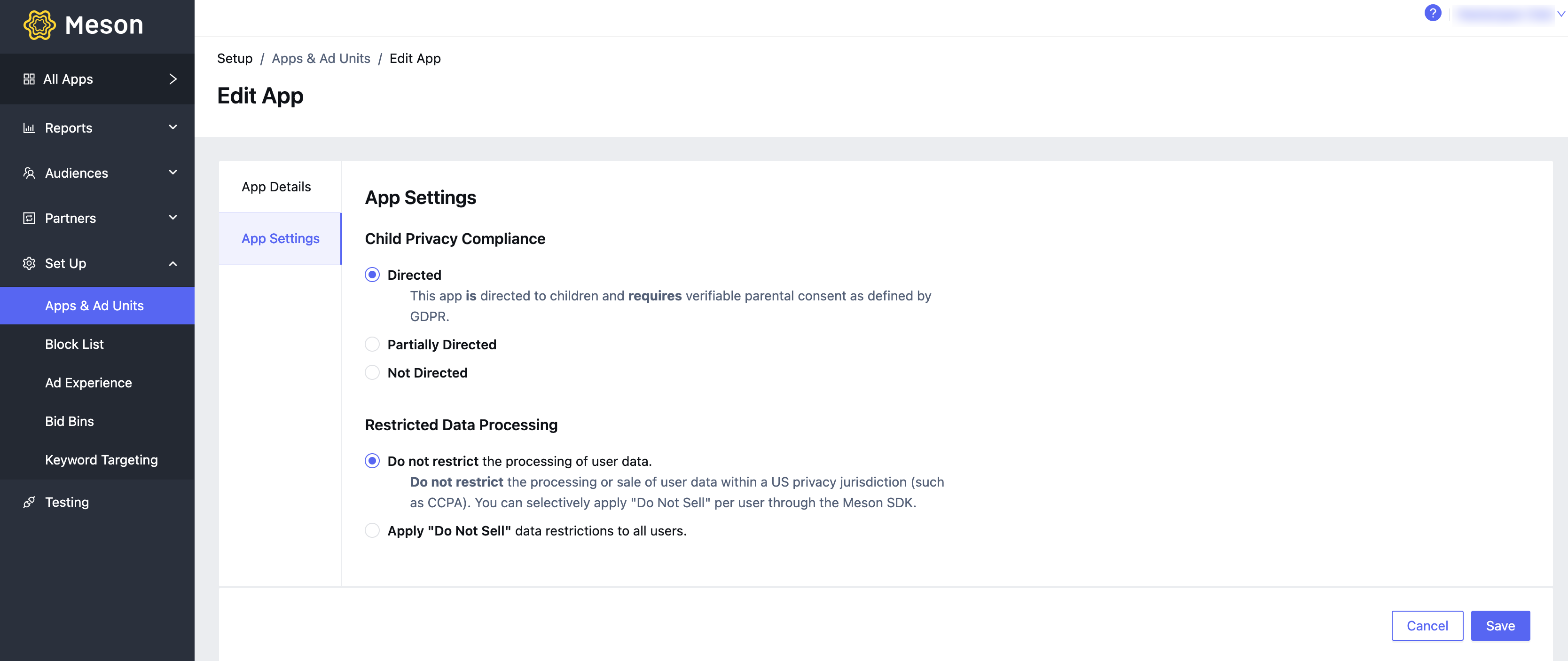 Edit/Remove Block List
You can edit a block list and change the definition anytime by following the instructions below:
Navigate to Set Up > Block Lists and click the edit icon under the Action column.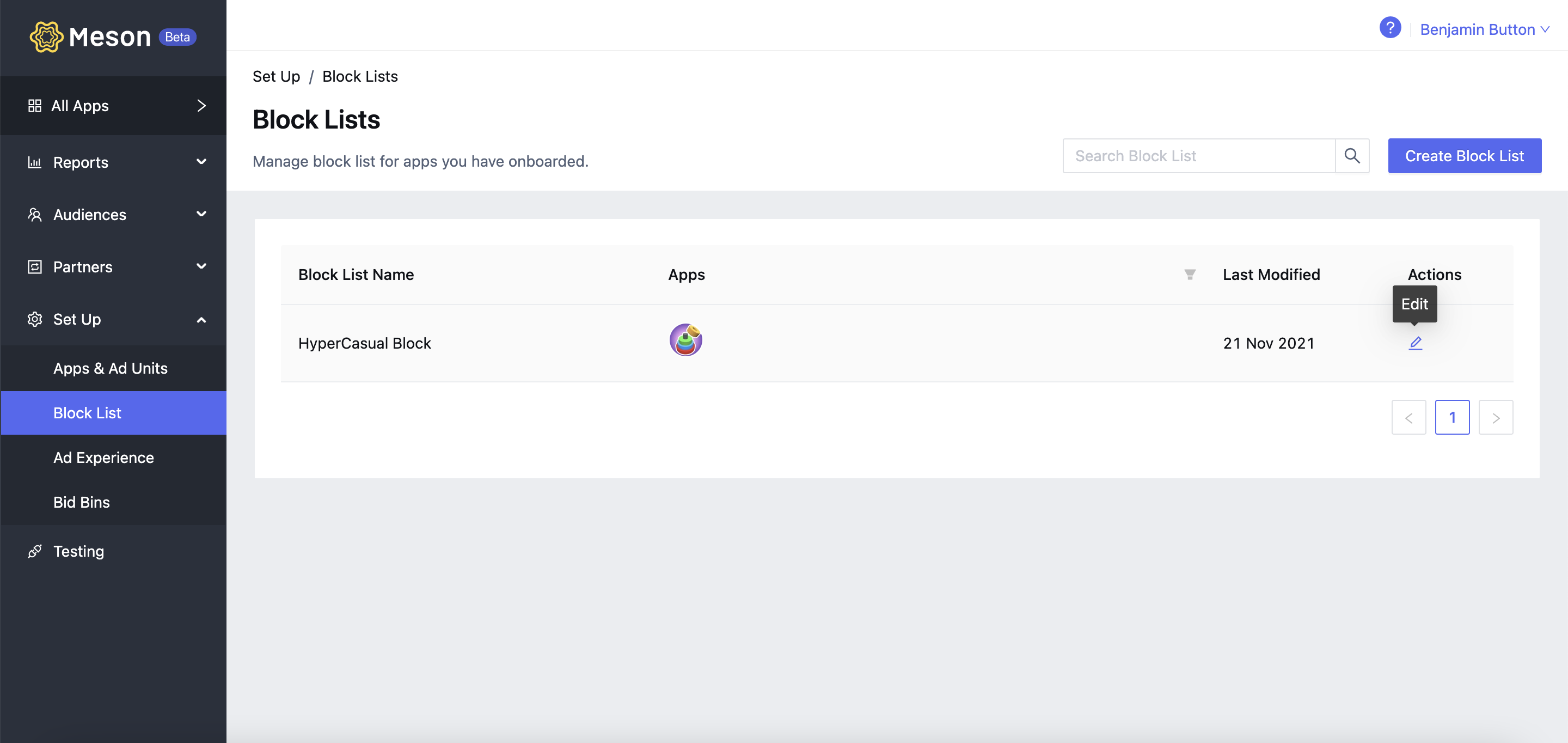 To edit/remove a Block List, click the bin icon and select a new block list.